Howdy all.
I recently purchased a '95 Super Custom AWD at a discounted price because it wouldn't start. The problem turned out to leaky ECU caps, and very cheap to fix (
see this thread
After taking it for a few decent drives I noticed that it was consuming coolant at an alarming rate - about 1L per 100km. I checked and couldn't find any external leaks. The overflow reservoir would always be empty, and there was no sign of it overflowing and spitting it out (as was the case on my last Super Custom... also a cracked head)
I also had a couple of instances where the motor would be hard to start or even hydrolock when cold - this was worst when the car had been for a decent run and then allowed to fully cool (and even worse when overnight temperatures were very low).
These symptoms pointed to an exhaust-water leak, so I started doing some tests and making observations.
- Tiny bubbles visible in coolant -
YES
When started from cold with the radiator cap off, coolant gushes out when given a bit of stick (about 2000rpm creates a steady overflow of coolant). When the motor is hot, white frothy foam forms on the top surface, and tiny champagne-like bubbles are visible.
- "Tee Kay Head Chek" (combustion gases in coolant) -
NO
This test came up
negative
... I am pretty much ready to throw this thing out now. I've read mixed reports that it doesn't work for diesels, or that only the 'new' testing fluid will work - I purchased this kit less than a year ago from a major auto parts retailer. It also failed to give a positive result on another 1KZ-TE that almost certainly has an exhaust to water leak...
- Compression figures were
OK
(car has done ~160k). Definitely within acceptable range for all cylinders, with a spread of only 25psi across all four cylinders. Workshop manual specifies a new motor should have ~440psi, with a minimum of 284psi (wow...), and max spread of 71psi.
Compression was tested through the glow-plug holes, and done cold due to the time taken to remove all the junk in the way, which I understand gives a lower reading than when the motor is hot.
Cyl 1: 405psi
Cyl 2: 395psi
Cyl 3: 380psi
Cyl 4: 380psi
Glow plug on cylinder 3 (3rd from left) was looking a bit sus. Starting to build a bit of a story...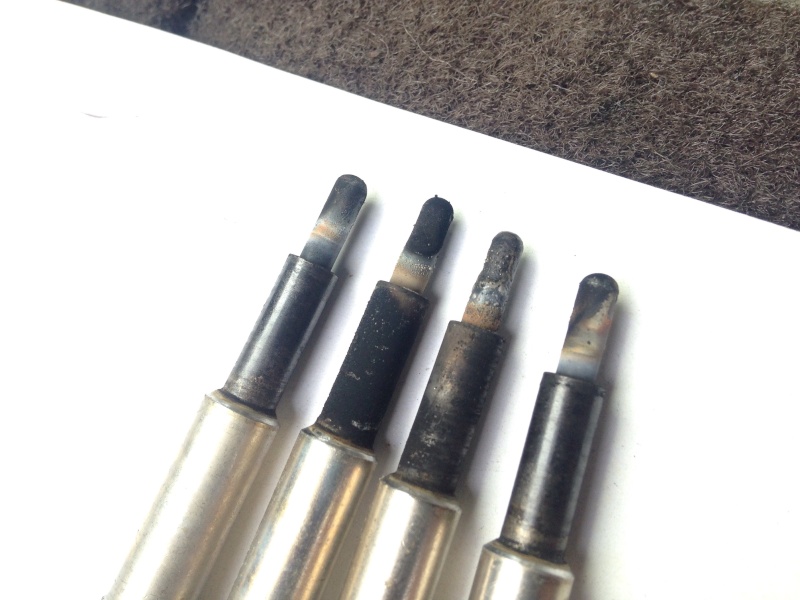 Next I pressure-tested the cooling system. I took an old radiator cap, drilled out the middle and silver-soldered in a schrader bicycle valve. I then blocked off the overflow reservoir line, and pressurised the system and let it sit for 30 mins. This was done with the glow plugs out.
When I went to turn the motor over (with fuel solenoid disabled), a jet of coolant came blasting out of cylinder no 3... see the video below:
Video of coolant being ejected out of cyl 3
So there's my culprit. Next I'll be pulling the head off to see whether it's the gasket (hopefully) or a severely cracked head...