Hi everyone!
I would like to know your opinion regarding a problem I'm facing on the cooling system in my Super Custom 1994, the engine is the 3.0L Turbo Diesel (1KZ-TE).
It all started a few weeks ago when I noticed the coolant level was getting low too quickly.
I'm travelling around New Zealand with my Super Custom so driving hundreds of km per week.
I brought the van in a garage, a pressure test showed that the cooling system was holding the pressure well with no external leaks but the radiator cap did not hold the pressure, its sealing was worn out.
The mechanic put a new cap and I could continue my travel.
A few hundreds km later, I checked the coolant level by opening the radiator cap and could not see any coolant.
I toped up but same thing happened every time until a few days later I found a coolant puddle after starting the engine. There was a hole in a steel heater pipe that was slightly corroded on the outside.
Brought the van to a garage and had a rubber pipe fitted
in the corroded steel one.
Now a few hundred km after that, checked the engine room and was surprised to see coolant had leaked on the engine and a big rubber hose was clearly compressed, like the air had been vaccumed from the cooling system. After opening the radiator cap, a lot of air came in and the rubber hose went back to its normal size. But the problem recured every time I took a drive...
Here is a picture where the blue circle shows the compressed hose, the red circle shows where the coolant is leaking from and in orange the suspected problematic cap:
ins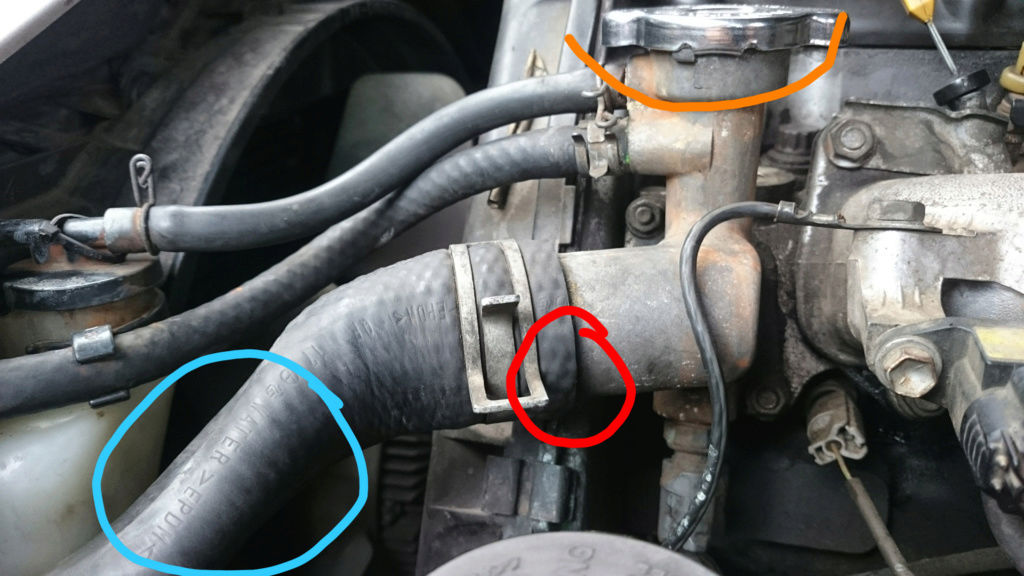 I'm starting to think that all these problems could be connected as they occured really closed to each other.
I'm not an advanced mechanic but I thing this could be linked to the mechanic who could have replaced my faulty radiator cap by another that does not hold the same pressure, preventing the excess pressure in the system to be released and creating an excess pressure in the system (that would lead this rubber hose to be so compressed).
First, thank you if you took the time to read and if you have any opinion or advice regarding my problem, I would be really grateful.
Many thanks in advance!
François